Painting diamonds with soul
I paint highly nuanced, hyper-realistic diamonds with ultra-magnified facets. In my paintings diamonds have stories and soul. They are spellbinding.
I celebrate human spirit and beauty through diamonds
Through my art, I celebrate each one of us, because we are like diamonds - brilliant, radiant, luminous, full of potential and much more! To me, diamonds are much more than just specimens, they are part of a larger story, always metaphoric and symbolic.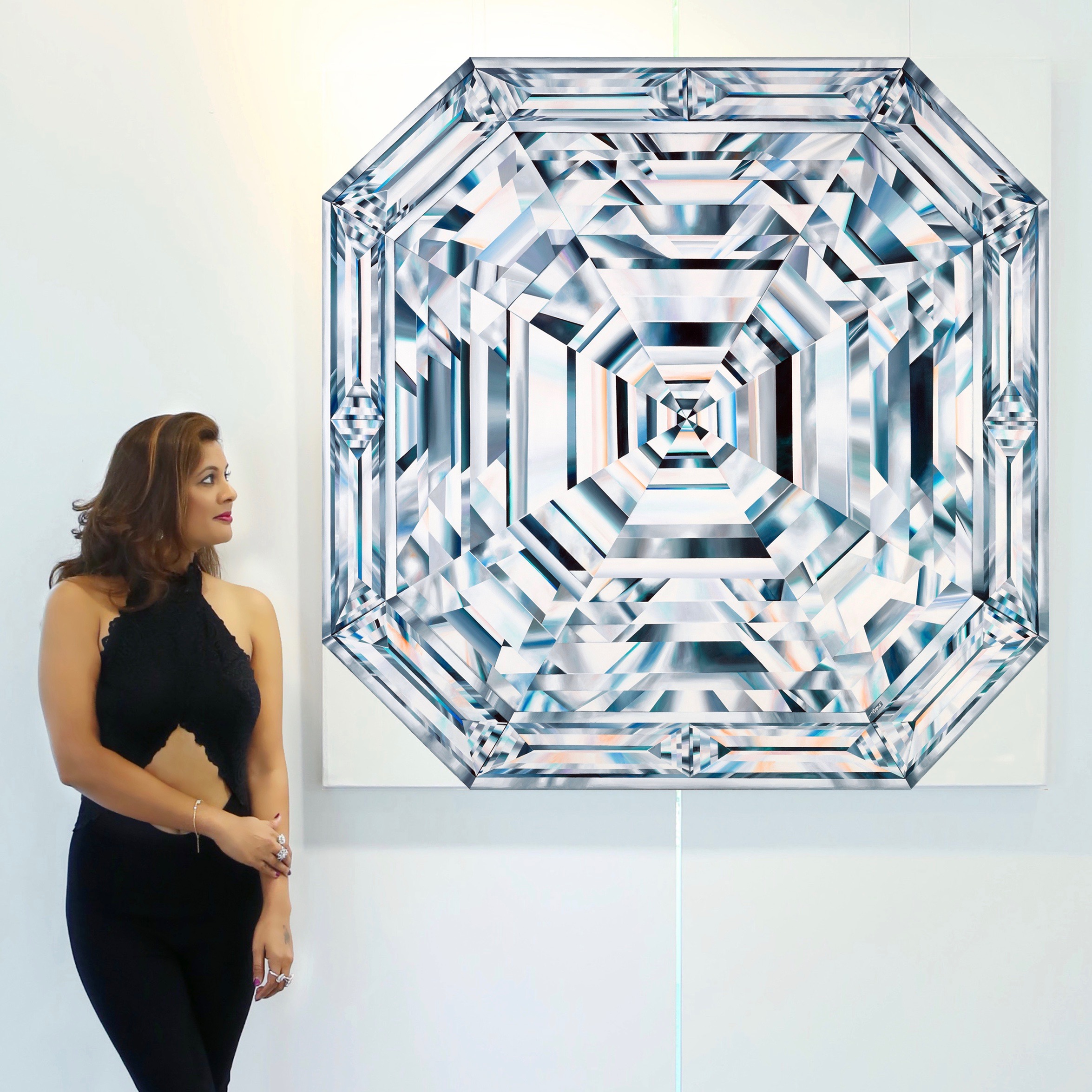 My background shaped my journey
I create. My childhood was filled with painting, sketching, and sculpting. Creating something new out of the ordinary and realizing that I could transform ideas was thrilling. I graduated from India's most distinguished art and design institute, the National Institute of Fashion Technology (NIFT) majoring in jewelry design. I earned scholarships and apprenticeship to fine tune my art in UK and Italy. I am a passionate professor teaching art and design in universities and colleges worldwide.
My paintings reflect my lifelong work with diamonds. The provenance of my artwork is also related to my career highlights. I am honored to be among a handful of living artists whose work is featured on a nation's postage stamp. My paintings are in 'DIVA. Antwerp Home of Diamonds' museum. The Legislature of Ontario (Canada) can only commence each day with the entrance of the historic Mace of Ontario in the parliament, the diamond setting in this Mace is designed by me. I designed a diamond tiara as a tribute to the Royal Wedding of Prince William and Kate Middleton. I created the inaugural jewelry collection, commissioned by Rio Tinto from Bunder Mine, diamonds found 100 years after the fabled Indian Golconda Mines depleted.
My artwork benefits Jewelers For Children (JFC) charity, to help children who are the victim of catastrophic illness or life-threatening abuse and neglect. Other beneficiaries include the Women's Jewelry Association (WJA), the Diamond Empowerment Fund (DEF) and the CKC Foundation. Each year Reena support students by providing grants, scholarships and mentor upcoming talent, including the Reena Ahluwalia Award / Scholarship at the Ontario College of Art and Design (OCAD) .
My art is to express, not just to impress
Creating meaningful art is my life. My everyday motto is to create as honestly and lovingly as I can. My deepest desire is to create art that can touch peoples lives positively and spreads joy.
Please click here if you are interested in purchasing a painting from Reena's portfolio or commissioning a custom painting.
EXHIBITIONS
2018
- 'Diamonds Dreams'- Paintings & Jewelry Exhibition. Sept. 27 - 28, 2018. Visual Arts Centre, Singapore.
- 'Diamonds For Hope' - a fundraising exhibition for Jewellers For Children (JFC) at Centurion Jewelry Show (Jan 28-30, 2018). Scottsdale, AZ, USA.
2017
- Whitefield Art Collective, VR Bengaluru, India. Feb. 24 - March 24, 2017.
- Legendary C. Krishniah Chetty & Sons present, 'DIAMONDS' - An exhibition of rare collectible diamond paintings by Reena Ahluwalia in Bangalore, India. Feb. 17 - March 30, 2017.
2016
- Painting exhibition at the Hong Kong Jewellery & Gem Fair. September 15-19, 2016. Hong Kong Convention and Exhibition Centre.
- Exhibition | August 23 - November 4, 2016. KARA ROSS, New York. USA
- Solo Exhibition | DIAMONDS | August 7 - 9 2016. Canadian Jewellery Expos Gallery (CJ Expos), Toronto. Canada
- Solo Exhibition | DIAMOND Privé | June 2016. Artscape, Toronto. Canada
2015
- Exhibition | ART MIAMI FAIR | December 1 - 6, 2015. Miami, USA
- Solo Exhibition | DIAMOND PORTAL SERIES | August 30 - October 30, 2015 | Fringe Gallery, Toronto. Canada